Archive for the 'Porn Star Muscle' Category
Gabriel Smits Blow Your Horn Sweet Latvian Hottie!
HOT!
Zac had been chatting with 21 year old Gabriel Smits for a few days before Ben arrived for his vacation in Berlin. Ben asked Gabriel if he would come round and model for him. It turned out that he was dating Jan Peters, another guy who has appeared previously on the site. Gab asked if Jan could come too. Why not. The more the merrier! Well soon after they had arrived Zac wanted to shoot Gabriel alone before they paired the guys up. It looks like Zac and Gabriel had a pretty good time taking these shots. Zac even made a video of Gabriel posing and getting hard for the camera. Gabriel is a super cute Latvian hunk now living up in Berlin. He didn't speak much English, but enough to get by during this shoot. Gabriel later joined Jan Peters in one of the hottest fucking sessions we've ever seen. Gabriel ends up coated from head to toe in cum.
Similar Posts:
Gorgeous Mick Lovell Next Gen Great Belami Star
Hot!
Just in case you might have missed the big splash intro of one of the newest exclusive models from the USA Mick Lovell.
Mick is a stunning young stud that has it all. His beautiful blue eyes will melt your heart but his hot muscle body & big cock will bring you to your feet. Mick is the total package. You get to know him intimately and exclusively at BelAmiOnline.com. Wait until you see his hot scenes with Kris Evans and Dolph Lambert!
You Won't Believe Who's Cumming!
Similar Posts:
Topher And Sean Duran Army Inspired Super Hot Sex!
This is the 2nd episode of So You Think You Can Fuck, Season 3. In this episode the boys pay homage to the repeal of "Don't Ask, Don't Tell" in the form of an Army-inspired photoshoot. Then Topher DiMaggio and newcomer Sean Duran have a super-hot sex scene in the Army Barracks, where the boys are living. The judges think the scene is amazing! Who wins points? What new term does celebrity judge Shangela learn? Watch and find out!
Watch the full movie at DominicFord.com
Similar Posts: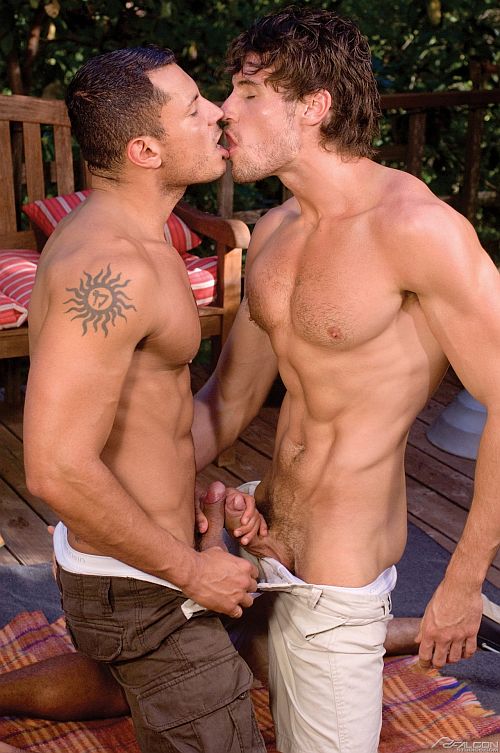 I Want You - Angelo Marconi, Adrian Long
HOT!
Adrian Long and Angelo Marconi are blissfully picnicking in the warm afternoon, feeding each other some juicy grapes and then eagerly feeding on each other. They slip out of their shirts as they continue lip locked with desire. They continue and slide out of their pants to finally free their swollen cocks. The mandhandling commences, and Angelo greedily feasts on his lover's cock. The tight muscles ofAdrian's pecs and his washboard abs strain and relax registering the exhilaration he's feeling as he face fucks his handsome mate. Adrian attacks Angelo's ass, rimming the puckered hole and deftly jamming fingers and his thumb deep inside. Ready for more, Angelo mounts Adrian and skewers himself onto his hefty meatpole. They fuck, both of them moaning with pleasure, as Adrian pumps in and out nonstop. They continue screwing doggie-style and then with Angelo down on his back, working faster and faster until neither can hold back and they both blow their wads.
Similar Posts:
Vito Gallo And Dylan Hauser Take It Like A Man!
HOT
Vito Gallo is known for one thing at the studio of Lucas Entertainment, and that's what's hanging between his legs. And if Dylan Hauser – who is new to the studio — knows what's good for him, he'll be able to take it like a man! After their interview, the guys start making out and unzipping. When Dylan gets a look at Vito's huge cock, he's startled at first. How do we know Vito approves of Dylan's oral skills? There's plenty of gasping and moaning — it looks like Dylan knows what he's doing! Vito shows Dylan's cock some attention too, but it's Dylan who wants to be in the role of servicer. Vito preps the Lucas Entertainment newcomer with a rimjob before rolling on a condom and laying Dylan out on his back. Grabbing the bottom's ankles and sliding in, Vito doesn't bother taking it easy. Dylan face crunches up as he moans and groans.
Similar Posts:
Jason Goodman Muscle Stud Fucked By Jack Patrick
HOT!
Jason Goodman and Jack Patrick! Jason is a hairless muscle stud who grips the sides of the staircase like parallel bars, lifting himself into the air while Jack sucks his dick and nuts. Jason's glutes are high, round and tight … and Jack fingers his burning hole like a drill. Jack grabs Jason by the waist, offers a kiss and leads him downstairs for Jason to take a turn sucking. Jason jumps Jack's bones, with his hole landing squarely on Jack's cock. From here on, Jason takes charge, fucking himself with Jack cock as if it were a living dildo. Every direction, every angle, every speed. Even when they switch to doggy, Jason is gripping his glutes, clamping his hole down on Jack's cock and rocking his ass to meet the thrusts of the cock barreling down his innards. Jack's cumshot paints a white line down Jason's spine while Jason, who has been jacking his cock frantically through the entire fuck, squirts massively onto the floor.
Similar Posts:
Peeping Tom Will Helm And Kriss Aston!
HOT!
Some of us like being watched while others get off on watching, whichever category you fall under you will love this Menatplay's update. When handsome Frenchman Will Helm, checks into a London hotel during a business trip he can't shake that feeling that he is being watched from across the hall but by who? Well it seems that thats not important for Will as the idea of someone secretly getting off on him, gets him so turned on that he decides to leave his room door open as in invitation to the peeping stranger… but will he take it? Soon enough Will hears someone enter his room, and walk up behind him touching him from behind, kissing his neck and pressing his hardening bulge against his ass… but still he does not know his identity. Still Will lets Kriss the rugged stranger do with him as he pleases, until he can't help himself any longer and turns around to get a taste of a strangers monster cock before ploughing his tight, hungry ass.
Similar Posts:
Chip Tanner L.A. Free Spirit & Dancer Busts A Nut!
HOT!
Chip Tanner is a free spirit from Los Angeles with a few tricks up his sleeve and a few toys in his collection. A dancer and an acrobat, he shows his limber talents of strength and flexibility before getting comfortable on the sofa and stretching out. Spreading his legs in a perfect 180 degree split, the bulge in his pants becomes prominent, as it grows beneath the cut of his silky shorts. Always looking for attention. this self-described horndog slowly peels off his shorts to reveal his gymnast body. Rolling over onto his knees, he pops his booty and locks his muscles, before getting down to the business at hand. He lubes up his Fleshjack and plunges his cock inside, working it in and out, up and down. Almost ready to burst, he holds off, switching to a silver dildo and inserting it into his hole while he continues to stroke himself away. With the dildo penetrating him, he feels a rush of ecstatic pleasure and can't hold off much longer, finally his load explodes. Enjoy!
Similar Posts:
RUFDUP Landon Conrad And Rogan Richards!
HOT!
Two of our hottest studs meet this week in the locker room when leather-clad Rogan Richards comes across our not so straight laced bank manager, Landon Conrad. Logan doesn't need any words, his air of dominance is enough to have Landon frozen to the spot letting Rogan take his time to touch, grope and breath in the smell of Landon's man scent! Landon is completely submissive and leaves power top Rogan to make all the decisions, dropping his pants to delve his tongue deep in to Landon's ass ready for a hard fucking over the locker room bench still wearing his suit tie and jacket which only come off when Rogan decides the time is right before he fucks him again lying on his back with his feet to the sky. These two really are a perfect match of amazing masculine bodies and perfect dominant top and manly submissive bottom. If you love seeing a man, who really takes it like a man, then RUFDUP is going to get your juices flowing.
Similar Posts:
Office Affairs Roman Heart And D.O.
Basking in the warm sunlight overlooking the forested valley,D.O. and Connor Maguire find comfort and pleasure in each other's strong embrace. The two men kiss passionately until Connor slides down onto his knees to face the hefty treasure sprouting from D.O.'s loins. The hungry jock's head bobs back and forth as he swallows his man's meaty sword, deepthroating its enormity. D.O. then has Connor bent over so he can munch and lick his sweet asshole. He blows and spits into the clenched crack between long lingering slurps and pokes a couple of fingers inside, exciting them both. Connor balances himself on top of D.O. and bounces up and down on his thick cock. They reposition so D.O. can fuck Connor up the ass from behind, and every thrust in and out has both men reeling with desire. Finally ready to blow, D.O. pulls out and jacks himself off onto his man's chest; and Connor responds by squeezing out his load, blasting his cum all over.
Check out the Free Action trailer
Check Out The All Scenes From I Want You
Similar Posts: